Lombardy plagued by bad weather: it continues to rain at times intensely particularly in Valtellina Valmalenco, Valchiavenna and Valsassina.
VALTELLINA and VALCHIAVENNA
Landslides and landslides on most of the valley with risk of flooding. The most worrying situation in Campodolcino, where the Gallivaggio bypass is literally covered in mud and debris carried by the Liro stream, and now the road is no longer visible. Furthermore, state road 36 is blocked in two places due to two landslides. Fortunately, there are no injuries so far, but a dozen cars are now blocked inside the Conoia tunnel. The Valle Spluga is currently isolated. Problems were also recorded in Delebio, where there is fear for a flood. The situation is constantly monitored.
VALSASSINA AND LECCHESE
Very difficult situation even in Valsassina where from the evening of Tuesday and during the night there were violent storms, which unloaded up to 150mm of rain. In the area there are numerous landslides, and floods in particular in the town of Premana, where several houses are flooded by water and mud due to the overflowing of the Varro. The entire Provincial 67 of Valvarrone was judged to be at risk. Emergency also in Dervio where the Varrone stream overflowed, flooding the Europa campsite, that was evacuated for safety. Flooding also in the Primaluna area  while Monterone is isolated due to a landslide on the road. Fortunately the rain stopped in the last few hours. The Lecco-Sondrio line was closed between Dervio and Delebio. The sp72 is also closed, the coast road that connects Lecco to Colico passing through all the towns of the lake. A  state of emergency has been declared.
COMO
The  level of the lake  in Como was further raised and this required the closure of the two lanes along the waterfront. The lane normally reserved for buses is now passable to cars so as not to block circulation, and buses are diverted to via Cavallotti. The Municipality has installed pedestrian walkways. The traffic in the morning is literally crazy with queues even up to Torno.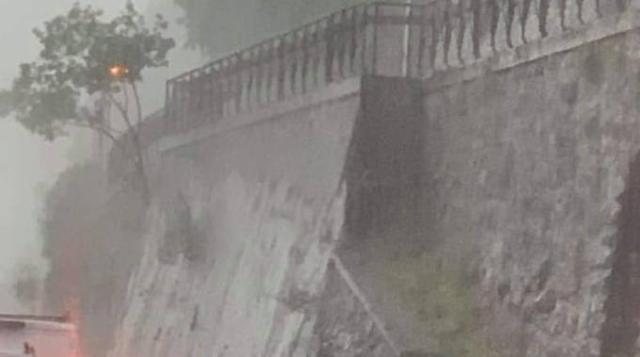 VALLE CAMONICA
Numerous landslides and floods have also occurred in Valle Camonica, especially in the area of Darfo Boario where numerous floods have occurred. Since yesterday afternoon bad weather, more than 60 interventions carried out by the fire brigade for fallen trees, floods and torn up structures. The main problems in the Mazzunno area due to a landslide: precautionary evacuation of 26 families, teams at work.