The World Pro Racing, Development and Entertainment Centre was inaugurated on Tuesday, with an investment of around €300,000. 
Situated at Montekristo Estate in Ħal Farruġ, Luqa, this new centre seeks to provide opportunities to young people and students who are following courses in media studies, enabling them to build their digital related skills in a virtual environment, eventually leading to the possibility of a career in esports.
The launch was held in the presence of the Minister for the Economy and Industry Silvio Schembri, and Gaming Malta's Chief Operating Officer, Ivan Filletti.
The new training and development centre is a state-of-the-art facility which also offers various other opportunities and has been created through an investment of €300,000. The facility is made up of 17 simulators together with all the necessary facilities for adjudication and race direction of online and offline races, telemetry room, all necessary broadcast facilities, which also includes a multi-purpose studio which accommodates the hosting of race commentators as well as hosting informative and educational programs.
Founder and CEO of World Pro Racing Justin Mifsud said, "All of this, as well as our local and international success was only possible through the support of Gaming Malta and the vision and holistic strategy the government has formulated with regard to esports. Your efforts are clear confirmation and a true showcase that the private sector is an essential partner in sustaining this sector".
Mifsud stated that World Pro Racing organizes international virtual championships, targeting serious and focused drivers who are looking to become champions and provides the opportunity to get a seat in the world of Motorsport through sim racing.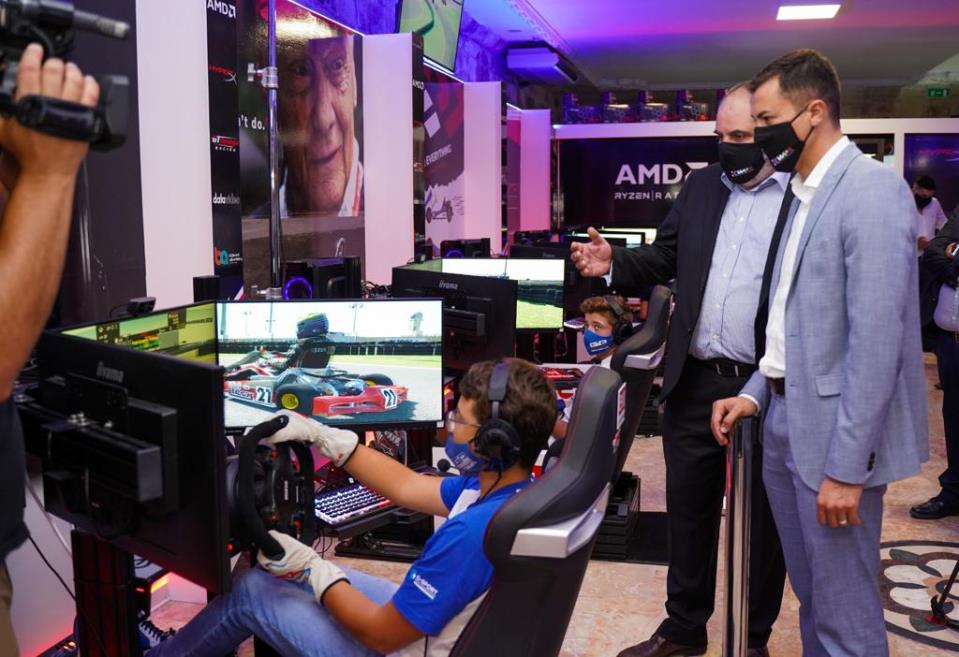 He explained that apart from the real athletes, sim racing also involves motorsport engineers and requires a full production team behind it. This ranges from broadcast directors, camera people, video editors, social media content creators, community managers, stewards, race directors, in-game content creators and developers.
He referred to the company's achievements which over the past two years have seen the company making a big leap forward on an international level by means of an enhanced online presence, to the extent that more than 500,000 unique views a month are reached on a worldwide level.  This forms a solid base on which to hold international events and strengthen worldwide partnerships, some of which can boast of over 200 million subscribers worldwide, like ESTV, and including the renowned Motorsport.tv together with ES1 the French Broadcasting partner and also TVM Sport, our local broadcasting partner. This helped World Pro Racing to onboard international partners such as AMD, HyperX, Thrustmaster, GT Omega Racing, Panasonic, Datavideo, Medialooks and Esports Insider as its official international news publishing partner.
Mifsud announced that the facility will be accessible for all those who want to try this sport and also to anyone wanting to enjoy such an amazing experience, as well as providing private training for professional drivers, dedicated sessions, team building activities, private championships and fun events for groups of friends and more.
Looking to the future, Mifsud said that World Pro Racing is working on major preparations for the hosting of international sim racing events in Malta as from 2022. He concluded that following a recently signed MOU with the Centre of Sports Excellence in Malta, they are developing a sim racing related curriculum which will be offered both online and inhouse at the facility.
When addressing the event, Minister Silvio Schembri stated that this facility will provide local esports players with a platform and a venue where they can develop their skills in a professional environment. He emphasised that a key benefit of the facility will be the possibility of offering a myriad of opportunities to those, who while interested in the sport, perhaps cannot have their own equipment at home.
The premises themselves will offer valuable exposure for esports on an international level. As Hon. Schembri noted, the facility will expedite Government's efforts to help attract international esports stakeholders to Malta, as this same facility will not only be available for the local esports community but also for foreign teams, not only as their training camps but also for their bootcamps.
Schembri asserted Government's commitment to further strengthen esports, a growing niche economic sector, which is continuously in search of new, young, and dynamic talent and consequently boosts the creation of new careers in the sector.
Schembri remarked, "Malta's Vision for Video Games Development and Esports is a vision which, as can be attested here today, is paving the way for the establishment of a strong infrastructure which is evidently serving as the foundation for the ultimate Mediterranean and European central hub for the sector". He called this inauguration a truly historic watershed moment, not only for the company but for the esports sector in its entirety.
COO of Gaming Malta Ivan Filletti said that "witnessing the growth of the esports ecosystem is part of our Home of Gaming Excellence credentials. Such top-level facilities are a sheer reflection of Malta's entrepreneurial spirit and the economic vision to embrace new economic niches. As witnessed here today, the standard set by the local esports industry is high. GamingMalta and WPR's mutual aim is that when it comes to esports and on an international scale, Malta will continue to drive for pole position."




See original Article on www.independent.com.mt