This is a must have for the feast of St. Joseph tomorrow! You can always buy them but they are not that hard to do yourself at home! The filling can vary for those who do not like ricotta.
It goes without saying that these zeppoli are pretty high in calories, but we can aford to have one or two on a feast day… we deserve it, right?
As with every other recipe, some ingredients may vary from family to family. We would love to hear about your variations to the recipe! So here it goes – recipe in both English and Maltese…
INGREDIENTS (INGREDJENTI)
For the choux pastry (Għall-għaġina):
40 grams margarine (40 gramma marġerina)
10 grams lard (10 grammi xaħam)
200 ml water (200 ml ilma)
Pinch of salt (Niskata melħ)
300 gms flour (300 gramma dqiq)
1 teaspoon baking powder (kuċċarina baking powder)
4 large beaten eggs (4 bajdiet kbar imħabbta)
1 lemon zest (qoxra ta' lumija)
1 tablespoons sugar (mgħarfa zokkor)
Oil for frying (żejt għall-qali)
For the filling (Għall-mili):

500 grams ricotta (500 gramma irkotta)
Few drops vanilla essence (ftit wtar essenza tal-vanilla)
90 grams icing sugar (90 gramma icing sugar)
20 grams mixed diced candied peel (20 gramma konfettura)
20 grams chopped roasted almonds (20 gramma lewż inkaljat u maħkuk)
20 grams chopped dark chocolate (20 gramma ċikkulata skura maħkuka)
For the topping (Għall-fuq):
Drizzle of a good honey (ftit għasel)
Freshly roasted almonds (lewż inkaljat)
METHOD (METODU)
Put the first four ingredients in a pot, but the ingredients should reach to not more than halfway in the pot because later we have to add on the flour. 
Ibda billi tħallat il-marġerina, ix-xaħam, l-ilma u l-melħ ġo borma jew skutella.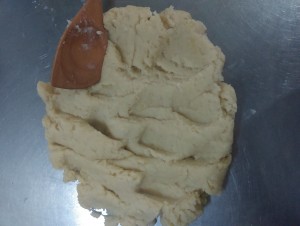 Once the mix starts to boil, add the flour/baking powder at one go and keep stirring on the stove until the mix starts coming away from the sides.
Meta t-taħlita tibda' tagħli, żid id-dqiq/baking powder f'daqqa u kompli ħawwad sakemm it-taħlita tibda tinqala' minn mall-ġnub.
Turn out to a flat surface to cool down. When cool, put in a planetary mixer and start adding the beaten eggs a few at a time until all are incorporated. Add the lemon zest, sugar, and continue beating.
Aqlibha fuq pjan ta' ħidma ċatt biex tibred. Wara itfa' fil-mixer u ibda żid il-bajd ftit ftit sakemm kollox jamalgama flimkien. Wara żid il-qoxra tal-lumija u z-zokkor u kompli ħawwad. 
Using an ice cream scoop or tablespoon, drop a good chunk of the mix into the hot oil. At first the dough will sink, but soon, it will rise to the surface and will automatically turn when one side is done.
Uża mgħarfa tal-ġelat jew mgħarfa komuni, tella' ftit għaġina u itfa' fiż-żejt jagħli. Fil-bidu l-għaġina se tinżel fil-qiegħ iżda mbagħad titla' fil-wiċċ waħedha. Meta tkun saret, tinqaleb waħedha. 
The fritters should grow to at least double the size before you pick them up with a slotted spoon on to a layer of kitchen towel.
Kun paċenzjuż. Iż-zeppoli jridu jibru kważi d-doppju qabel ma tkun tista' ttellagħhom miż-żejt. Uża mgħarfa bit-toqob meta tiġi biex ittellagħhom. Poġġihom fuq sarvetta tal-karti tal-kċina biex jinxtorob iż-żejt żejjed. 
You may mix the ricotta with the sugar in food mixer, but add the other ingredients and mix by hand. Fill the fritters with the ricotta mix, top with the honey or syrup and sprinkle with the chopped roasted almonds.
Tista' tħallat it-taħlita tal-irkotta u z-zokkor ġo mixer jew b'idejk. Tagħmel x'tagħmel, meta żżid l-ingredjenti l-oħra, l-aħjar li tħawwad kollox b'idejk,  Imla' ż-zeppoli bit-taħlita, u meta jkunu lesti itfa' fuqhom l-għasel u l-lewż inkaljat.